Timapalak Pangwika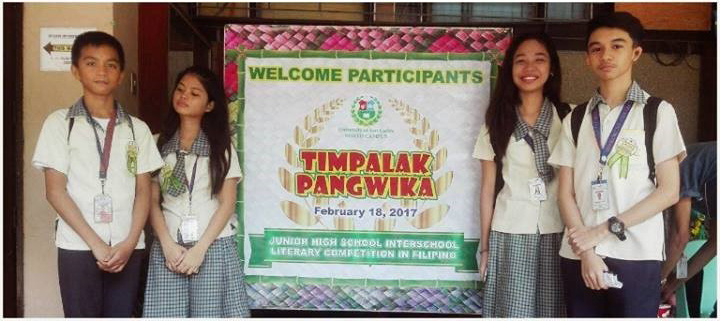 The Filipino educators of University of San Carlos-North Campus hosted last 18th of February of this year 2017, "Timpalak Pangwika", a Junior High School Interschool Literary Competition in Filipino, in which 16 schools had partaken to showcase each of the school's participants knowledge and their intellectual skills. Their vision was to test the strength of each participant's superior wisdom and to deepen and nurture the understanding of the value of the Filipino language and the Philippine culture.
Our school enthusiastically participated on the said activity. As the representatives waited for Tagisan ng Talino (for freshmen), Awit- guhit (for sophomores), Letra-Tula (for juniors) and Letra-Salita (for seniors) to commence, feelings of fear, anxiety and jitters stroked the students and all those were visibly seen in their eyes. Despite those negativities,they handled the competition very well.
One of our very own representatives, A grade 7 FAPEH student, Bien Francis Timbobolan, the 6th placer of the Tagisan ng talino was very challenged and had a full determination on himself and rejected to be taken over by those fearsome emotions. Ivan Galicia, A sophomore representative that has created an aesthetic piece with the use of his creative imagination. Andrea Irinco, a junior representative that has originated an ingenuous and creative art of Filipino poetry. Danielle Mckaye Delacruz, a senior representative, a discerning speaker that has a wise perception in seeing things.
Those four representatives strived and gave their all and have learned a lot of things in that one day activity, thanks to their coach Teacher Allen Jane A. Camacho for exerting a lot of effort and for pushing boundaries to be a part of the activity.
---